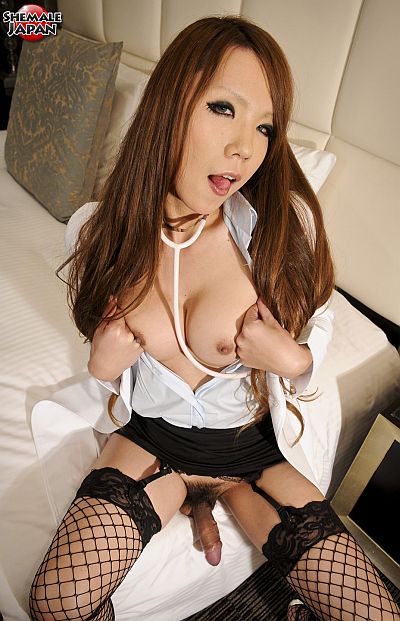 Shemale doctor Manami Cyojyo stepped into the room wearing a white coat, short skirt, sexy fishnet stockings and suspenders, her shirt slightly undone to give a glimpse of lacy black bra and cleavage.
She turned to give a rear view and lifting her skirt she tugged her panties to one side, exposing the puckered ring of her ass as she pulled the cheeks apart with her fingers. She moved her sexy butt and the long black garters which stretched over the flesh of her thighs pulled on the lacy tops of her black net stockings.
Sitting on the edge of her seat Manami crossed her stockinged legs so her cock was sandwiched between her thighs and it hung down like a thick sausage with a plumb like bell end. The light shone off the surface of the taut skin which stretched over the crown of her tumescent cock as she stroked it off in her hand.
Stripping out of her crisp cotton shirt revealed her transsexual titties with their soft mounds and erect, budding nipples. Then kneeling on the seat she presented her ass for inspection, her sexy garters stretching over the globes of buttocks nicely framing her tight butthole.