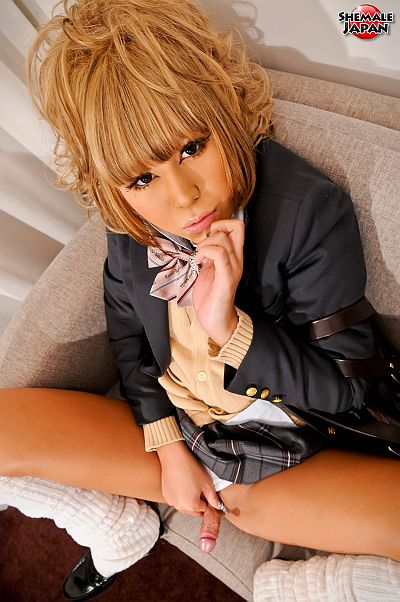 Japanese shemale Erina Aisaki has finally returned to Shemale Japan, perkier than ever, and I think she needs a little ruler spanking for being so naughty!
With her golden tan and fashionable girly-glam make-up, Erina is an archetype of the trendy Japanese Gyaru subculture, the look of which many young girls have adopted.
Erina is every mans dream of a rebellious, unconventional-looking Gyaru girl, with the exception that this girl has a nice package in her panties. Erina tells us she only goes out with guys that want something a bit special, if you know what I mean.
Dressed as a slutty schoolgirl in short skirt and socks, Erina licks her lips as she strokes her hard clitty cock, right at the start of this video. The way her eyes look as she pouts those glossy lips and tugs her beautiful cock, tell you this girl is a hot little slut, alright!