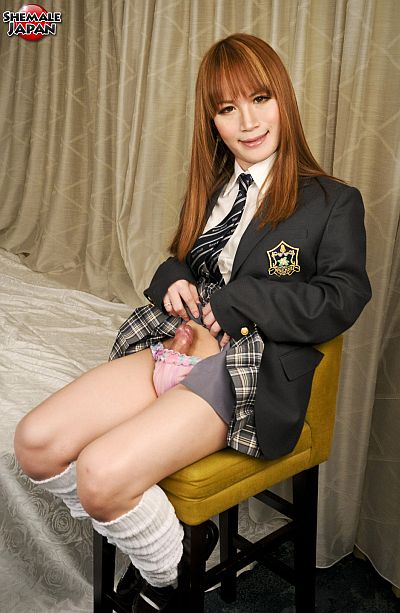 Rio Asahina had just arrived home wearing her school uniform and she was in the mood to give me a very sexy tease and play with her cock!
She's a flirty girl who wanted to play naughty games and turning around she lifted the back of her short plaid skirt and wiggled her sexy, little ass. Showing  off her tight, pink panties that disappeared between the cleft of her buttocks, she bent over slightly and tugged to them one side and give me a view of the tight ring of her sexy butt.
Turning around she lifted her skirt once more and revealed her erect cock that was standing stiff and proud from the top of her tight, little panties. Her balls looked so snug behind the silky material of her panties as she fondled her dick in her hand. Pressing her erect cock downwards and towards me, I could see it had a real nice curve and the purple cockhead looked thick and perfect.
Rio then sat in a chair and played with her stiff member, teasing the foreskin back over the shiny purple head of her penis and applying a vibrator to the shaft while she played with her pert, brown nipples.