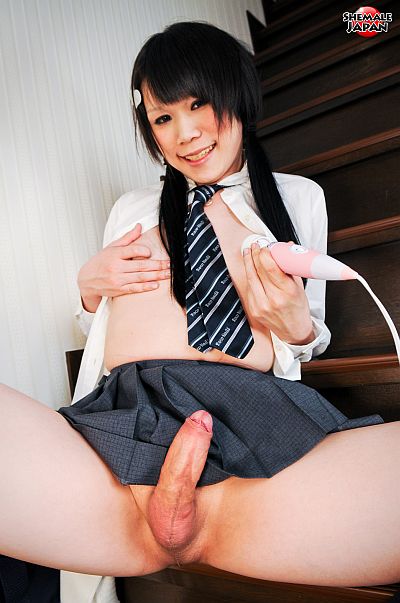 Japanese Newhalf Koyuki is just back home from school and feeling very horny she lifts her short skirt to reveal that her erect cock is poking out of the top of her tight, sexy black panties.
She's been wanting to play with her cock all day, but had to keep that hard erection concealed in her panties under her skirt. Now at last, she can play with her lovely shemale cock and pulling her schoolgirl panties down so they are stretched around her thighs, she grips her erection to wank it off!
Removing her panties she puts them around her cock and wanks it with both hands wrapped firmly around the shaft. Koyuki's cock is very stiff with a nice curve to it and a shiny purple cockhead which she teases with her fingers as she gives herself some much needed pleasure.
Koyuki applies the revolving head of a vibrator to her erection, making it throb and pulse with the constant vibrations as she holds it against the shaft of her prick.
Lubricating a long pink anal dildo, Koyuki slips it up her ass as far as it will go, and fucks herself with it while she wanks her throbbing cock at the same time.