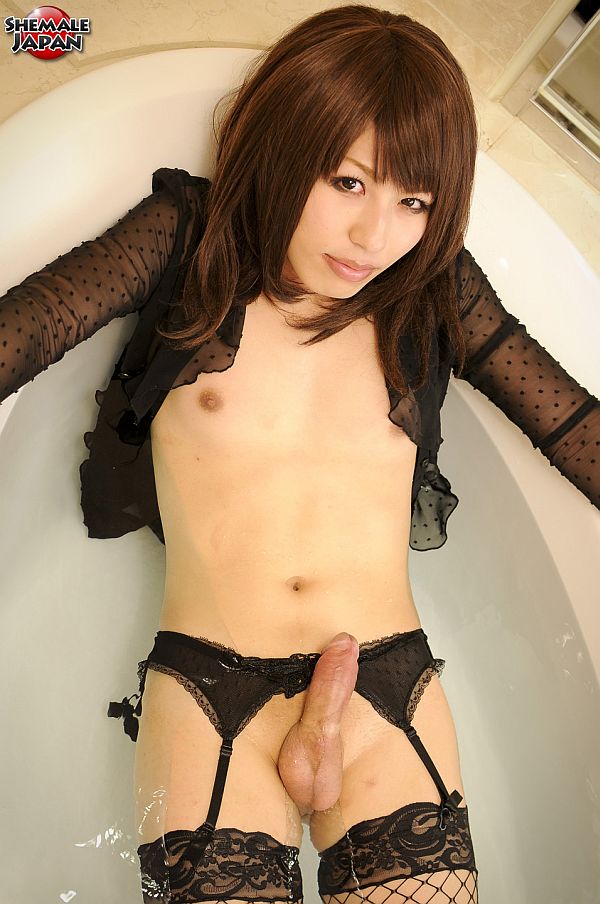 Reina Minazuki's legs were covered in black fishnet stockings as she sat with her black sheer nylon top open, revealing the soft, flawless skin of her belly and her petite tits with their perky brown nipples.
Sitting with her stockinged legs stretched out, her curvy cock stood erect in her lap as she reached to grasp and give it a gentle stroke with her hand rubbing up and down the length of the thick shaft.
Getting up she walked over to stand near the shower and stood there displaying her half-hard, meaty cock and balls hanging down between her legs, all nicely framed by her garters and the lace tops of her sexy black stockings.
Reina removed her heels and then, still dressed in her lingerie, she slipped into the bath which was filled with clear water, making her nylon top and stockings all wet and clingy.
Getting into a standing position and bending over, she pulled her buttocks to one side to give a view of the puckered ring of her ass, all clean and wet from the bath. Then she pushed her cock and balls back so they were sandwiched between her thighs and moved her fabulous ass up and down in a very sexy way.
Reina then stripped off and lay naked on the bed, pumping her oiled up cock in her tight fist and squeezing out her juice from the shiny bell end of her throbbing erection when she climaxed.