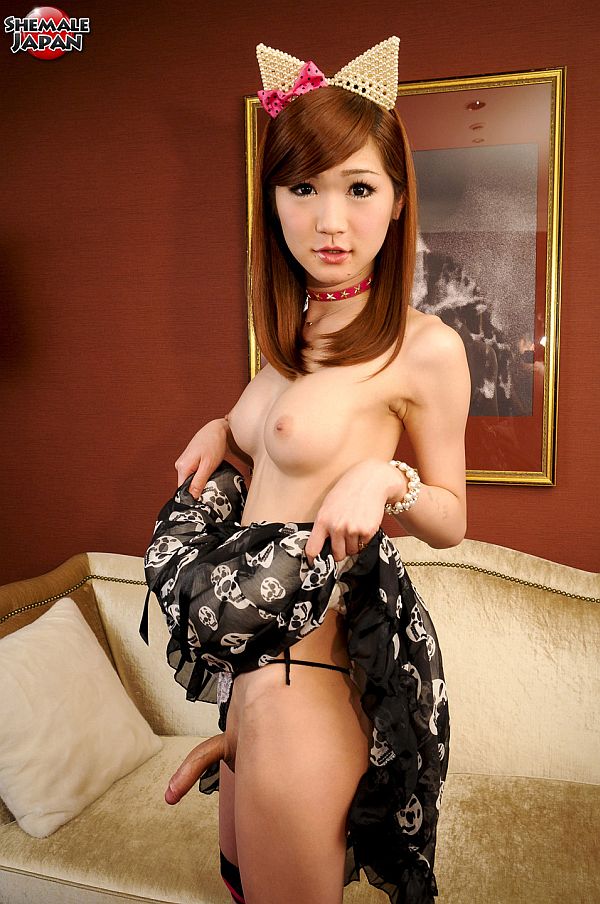 Japanese shemale Nene told us she is planning to go to the USA later this year and particularly has her sights set on living in California. She personally prefers western men, especially those with fit and muscular bodies, so if you are in the states you may just get the chance to hook up with this hot, little cutie later in the year
After Nene talked about her plans, she slipped off the straps of her dress to show us her perfectly formed hormonal tits which look very natural and round, with pink puffy nipples she likes to play with. She then stripped out of her dress to reveal her slender body with soft flawless skin and the jeweled piercing in her belly button.
Nene sat and teased her genitals by pulling her lacy pantie thong around her cock and balls, and her prick soon became hard and pushed against the material in the front of in her thong, until she finally released her erection so it poked over the top of her panties.
Her erect cock stood up straight and the purple head shined like a bright cherry she sat and wiggled it from side to side. Then she pulled her panties to one side and explored the gaping hole of her ladyboy pussy, as she stroked the shaft of her erect penis and played with a sticky strand of pre-cum on the tip of her finger.
After removing her panties she stood and spread the cheeks of her ass to show where she loves to take it up the puckered ring of her ladyboy cunt, then pushed her erect cock back and sandwiched it between the flesh of her soft, naked thighs.
Imagine popping this pretty girl's cock in your mouth and making her squirm as you slide your tongue over her cherry red helmet and feel it pulsing as she builds up to her orgasm.