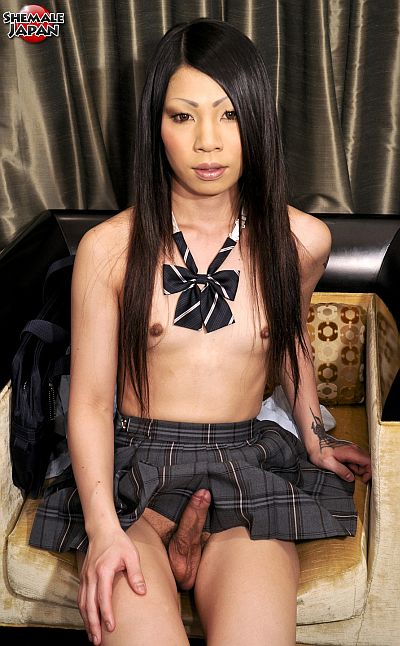 Japanese Ladyboy Rei Sugimoto is a slutty schoolgirl with a hard cock which she can't keep in her panties, so she takes it out to stroke herself off in this video at Shemale Japan.
Rei is relieved to get home from school because now she can play with her cock, which has been standing erect in her panties under her school skirt all day long!
Lifting her skirt reveals the purple and black satin panties she is wearing, and the tip of her stiff penis which pokes out of the top of the black lace waistband of her knickers.
Rei teases her prick by circling her finger around the bulging cockhead and massages her balls in her sexy satin panties. Then she releases her lovely stiff rod from it's confinement and it stands out in sexy contrast against the material of her plaid school skirt.
Rei strips off her uniform, then gets into several positions to show off the puckered ring of her her ass as she strokes her lovely cock and balls.