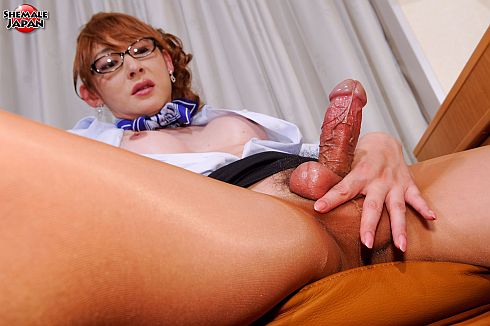 Japanese shemale secretary Aiko rips open her pantyhose and plays with her cock in the office, in this movie at Shemale Japan.
Secretary Aiko loves to jerk off in the office during her lunch break, and here we videoed her playing with her cock as she sat at her desk.
Aiko was wearing her favorite shiny pantyhose and began by running her hands and dragging her fingernails over her pantyhosed legs. Then she lifted her skirt and showed me her stiff cock, so hard and erect behind the front panel of her nylon pantyhose.
She ripped open the pantyhose crotch to get at her cock clitoris, and moaned with pleasure as she stroked her thick shaft in her hand.
Aiko cupped her balls and dragged her fingernails over the area between her cock and ass, touching her butt hole and pleasuring her thick shemale cock.
Then she got up and turned around to show me her thick cock and balls pushed behind between her thighs, and ass hanging out of the seat of her ripped pantyhose.