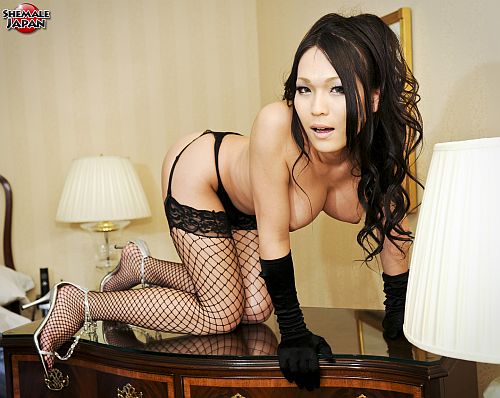 Sexy Japanese Ladyboy Minami Hosho wanks herself off in black fishnet stocking and suspenders in her latest video at Shemale Japan.
Minami looks very sexy and elegant in her dress as she runs her hands in long black opera gloves over her legs in black fishnet stockings and silver heels.
Lifting her dress she reveals her black garterbelt and the lace tops of her sexy stockings and the colorful silk thong that slips between the cheeks of her peachy ass.
She tugs her panties right up her ass crack and wiggles her ass about, then pulls her thong to one side of her butt cheeks to expose the puckered ring of her anus.
Minami rubs her hands over her cock and balls inside her panties and gets herself excited. Her erection springs out from the side of her thong and she grabs the shaft and tugs it in her gloved hand.
Stripping down to her stockings and garterbelt, Minami gets comfortable on the sofa and pulling her legs back she fucks herself with a jelly vibe up her ass.