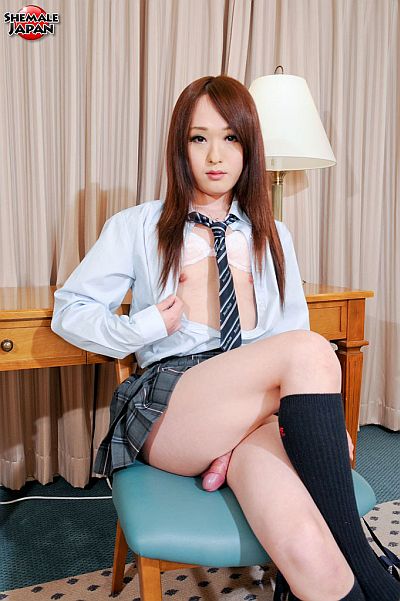 Newhalf Emi is 20 years old and works as a hostess at a local tea house/snack bar where she is accepted as a normal girl by the customers. No one has ever suspected the nature of her true identity, if only her customers knew this pretty girl serving them tea is packing a huge penis down her panties beneath that short skirt.
We discovered that Emi is a virgin, having no sexual experiences with men at all, plus she had never done a porno photo shoot, until now.
Emi was naturally nervous about being videoed, this being her first time, but I think her shyness made her more even more attractive.
Standing dressed in her school girl uniform, she complied with Hiro's instructions, lifting her short skirt to reveal her bulging cock in those pink panties she was wearing.
Emi looked so shy and innocent as she sat in a chair with her skirt hiked up, jerking off with cock in hand. We were surprised to see what a huge cock this cutie doll has, and so will you be when you see her video.