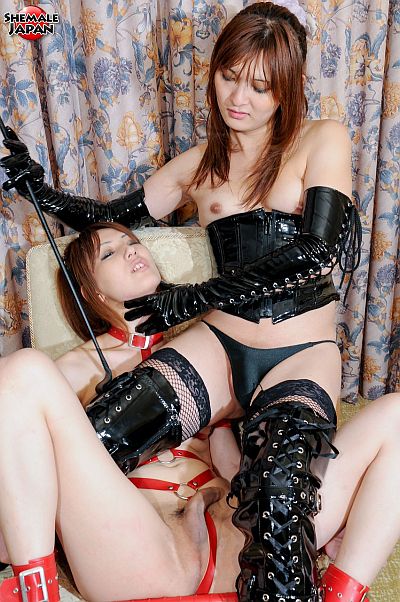 Two of the hottest Japanese shemales, Mai and Mao Asagiri, feature in this steamy hardcore fetish BDSM video at Shemale Japan.
Dressed in fetish corset, stockings and boots, Mao is a commanding mistress, ordering Mai around until she's practically begging to be fucked.
Dominating the helpless Mai, who is trussed up in bondage restraints, Mao forces her bound slave to suck, lick and pleasure her hard shemale cock and balls.
Mao whips Mai's erect penis and pert tits with the tip of a riding crop, making her whimper with every hit of the whip as it contacts her bare flesh.
Mai's penis gets hard with all the excitement of being beaten by her mistress, so Mao penetrates her pretty slaves' ass with her hard cock.
Mao forces Mai to ride her erect prick, making her slave bounce up and down on her fleshy pole. Then she reaches round and firmly grips her slaves' cock, tugging it hard as she fucks Mai up the ass.
Finally, Mao makes her slave masturbate her cock and until she cums, and Mai licks her mistresses sperm off her belly.