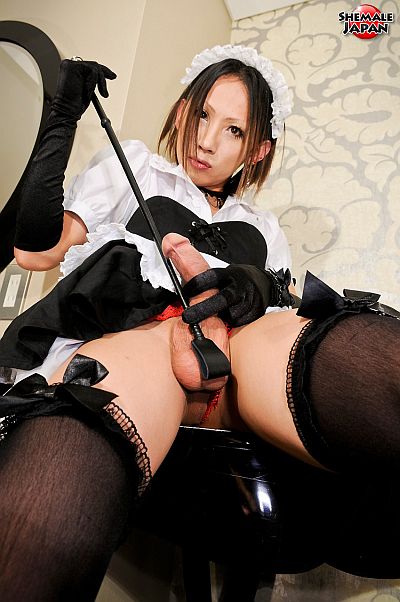 Japanese Newhalf Kei dresses as a kinky maid with a riding crop and plays with her big cock in this video at Shemale Japan.
Kei makes a very exciting entrance when she enters the frame at the start of this video…all dressed up like a pretty maid in uniform and stockings.
Resting one foot of her stockinged leg on a low table top, Kei gives a knowing look as she lifts up her lacy dress, and shows off the bulge in her red satin panties that barely conceals her privates.
Giving a rear view of her splendid ass, Kei pulls the thong of her panties to one side to tempt us with a look at the puckered ring of her butthole.
Kei then pulls out her stiff cock from the side of her panties, and begins stroking her erect penis with her gloved hand wrapped around the long shaft.
I've rarely seen a newhalf with a cock as large as this, standing erect at 20cm/8 inch long, Kei certainly has a monster dong!
Kei rolls her cock around in her expert hands, showing how she gives herself pleasure by teasing her throbbing meat between her gloved finger tips.
Pushing her penis so it is sandwiched between the back of her thighs, Kei smiles as she teases the bulbous purple cock head with her gloved hand.
Even Hiro can't resist lending a hand and giving Kei's magnificent cock a good tug.