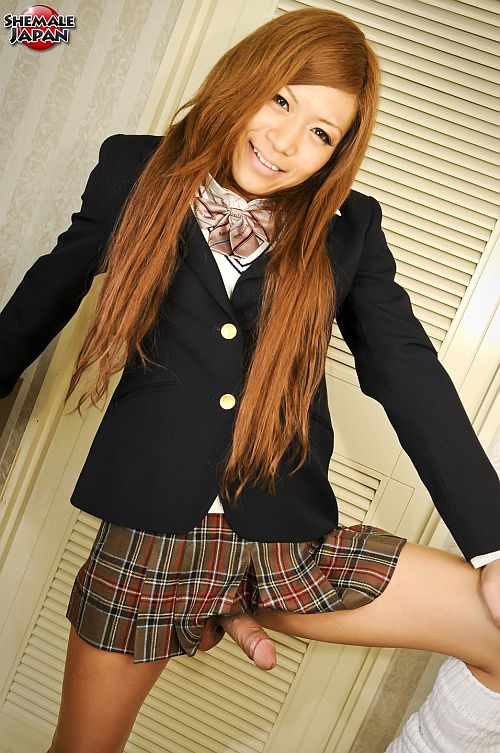 Kureha returned home from school feeling very horny and lifted up her paid skirt to show off her sexy leopard print panties. She's a real flirt, this one, with a big smile on her face as she held up her skirt and a nice big cock stuffed down her panties all ready to be stroked for pleasure.
Kureha pulled at the waistband of her panties and suddenly her stiff cock sprang out and she squirmed as Hiro lent a helping hand and tugged on her thickly veined prick. She then pulled her lovely big cock out of the side of her panties and waved it about, swinging her hips from side to side so her erection wobbled in front of our eyes like a flesh sword.
Turning around Kureha pushed her thick cock and heavy balls between her thighs so they stuck out from behind, then lifted her leg onto the table and stroked her throbbing cock downwards, milking the shaft in her hand and teasing back the foreskin over the shiny purple knob.
Opening her crisp white shirt she pulled up her bra and pinching the thick, brown bud-like nipples she rolled them between her fingers which gave her much pleasure. Kureha is a natural submissive so she got on her knees and wanked her cock between her legs, as Hiro rubbed the brown button of her anus and spanked her sexy schoolgirl ass.
Kureha then took off her panties and laying back on the couch she pumped her stiff rod in her fist. There was a look of concentration on her face as she built up to her orgasm and then suddenly she climaxed and shot thick strands of sperm over her naked thigh.