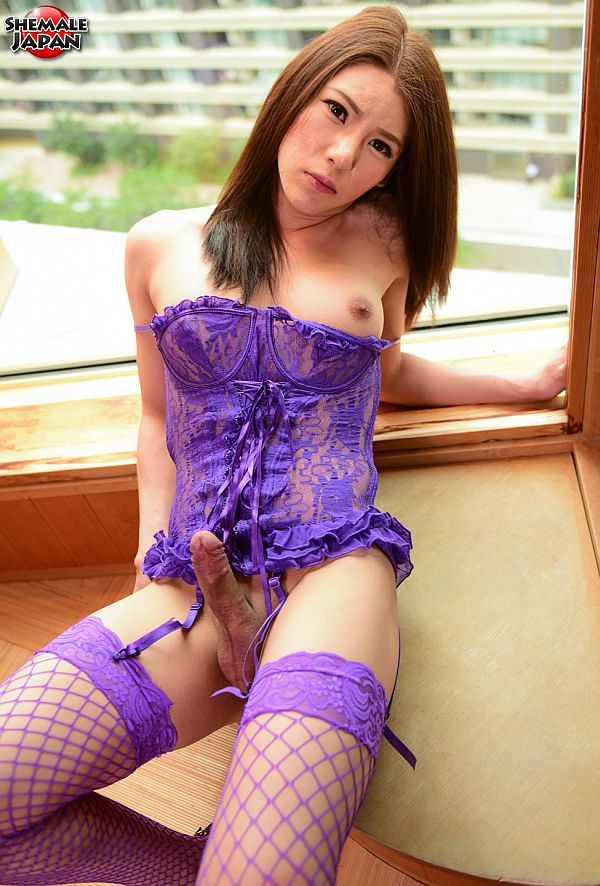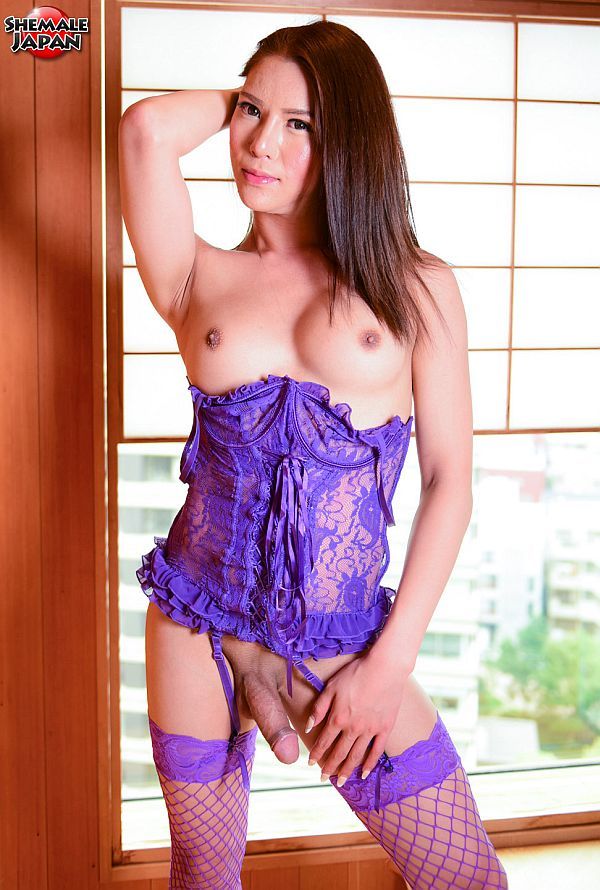 Beautiful. Sophisticated. Elegant. Just a few words describing our impression of Yuria Misaki, who has fast become one of our favorite newhalfs. Just take a look at how stunning she looks dressed in sensual lace lingerie and stockings in her 5th video appearance for Shemale Japan.
Yuria looked almost too beautiful with her long hair, shining eyes and inviting smile as she sat in her lingerie by the bathroom mirror. Wearing a white sheer nylon negligee, purple lingerie corset and fishnet stockings, she opened her legs to reveal the huge bulge of her cock pressing against the crotch of her tight, black panties.
Yuria opened her legs even wider and spread her fingers along the side of the shaft of her bulging erection, rubbing it through the tight material of her thong. She hooked her thumb into the elastic of her panties and pulled them outward, and the purple head and thickly veined shaft of her cock popped over the top and rubbed against the purple lace of her lingerie.
Yuria stood with her perfect erection pointing at an angle from her body, then pulled the stretchy material of her panties up over it to form a cock-hammock. She stripped the panties down her legs and her huge cock sprang up and wobbled as she stood showing it off, all nicely framed by the purple suspenders attached to the tops of her sexy stockings.
Yuria wrapped her fingers lightly around her prick and wanked it off, the foreskin peeled back over the purple cockhead as her hand leisurely stroked the curve of the pulsing shaft. Her erect shecock looked so suckable as she pressed it down to give a close up view of the smooth purple glans and waggled it around with her fingers scissored around the base of the shaft.