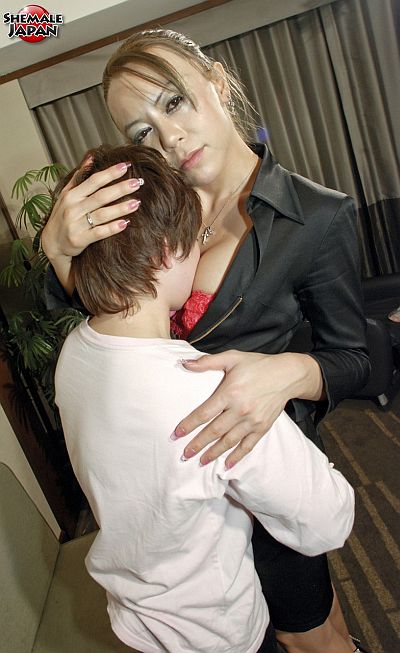 Sakura is a 25 year old popular escort from Tokyo and told us she has a special attraction for handsome, good looking boys.
So we made a date for her to meet one of our Shemale Japan members, Hajime, who wanted to be initiated into the world of transsexual love.
We arranged for them both to meet at a hotel and Sakura introduced herself to Hajime who was sitting nervously on the couch.
While Sakura finished off her cigarette, Hajime went down and started by kissing Sakura's feet as she stood in her strap on heels. Then growing in confidence he undid her blouse and released her tits, licking on the pert brown nipples and the underside of her arms.
Sakura made him stand as she undid the belt of his trousers and pulled them down. Hajime was already so turned on, his hard cock was sticking out of the front of his underpants like a tent pole. Sakura teased his cock, putting her mouth around it through the material of his pants, before finally letting it spring free. She licked and sucked on his excited penis with her expert mouth, and Hajime gasped as he watched this beautiful transsexual giving him a blowjob.
Now Hajime was totally absorbed in the moment, and forgetting his inhibitions he grabbed hold of Sakura's hard penis and stroked it while he kissed her. He was so excited he leaned forward and without thinking, he put Sakura's hard cock in his mouth and sucked on it. He had never touched another penis before, let alone sucked on one, yet here he was sucking on the cock of this stunning shemale.
Sakura's cock smelled musky and tasted salty, and the more he sucked it the more he became horny. So horny in fact, he got Sakura to fuck his boy ass with her shemale cock, something he never thought he would do. But here he was, with this exotic shemale fucking his ass, it was incredible and it felt good!
When you enter the world of transsexual love, like Hajime, be prepared to explore the boundaries of your sexuality. It will blow you mind!
Download the movie of Sakura seducing Hajime at Shemale Japan.