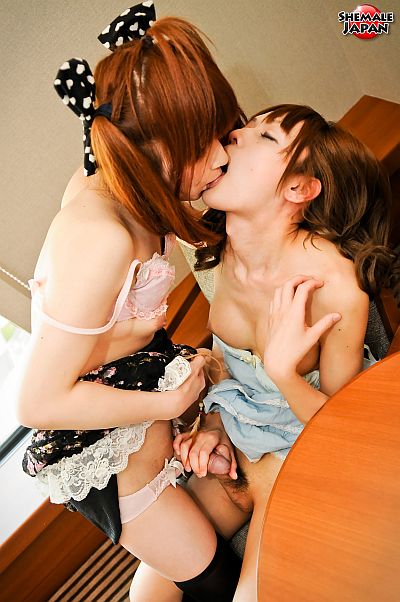 CLICK HERE TO SEE MOVIE TRAILER OF YUKI & HIROMI
Sexy newhalves Hiromi and Yuki Mizuno both agreed to get together for sex in an hotel room for Shemale Japan.
It turned into an unforgettable fucking session, with both newhalfs all over each other as they were so greedy for cock.
It began with Hiromi lifting Yuki's dress and getting her friend's erect cock out of her panties and into her mouth. As she sat in her chair, Yuki lifted her legs up and back while Hiromi sucked on her sweet erection.
Then Hiromi stood and Yuki pulled down her friend's pretty pink panties and sucked her off in return. The pair then sucked each other even more of the bed and Hiromi fucked Yuki up the ass while wanking her cock at the same time.
It ended with Yuki stroking off Hiromi and making her shoot lots of cum, before she wanked herself off over her cute friend lying on the bed.
If you love the idea of two sexy newhalves groping and sucking each other, this movie featuring Yuki and Hiromi is gonna definitely make you blow your load!