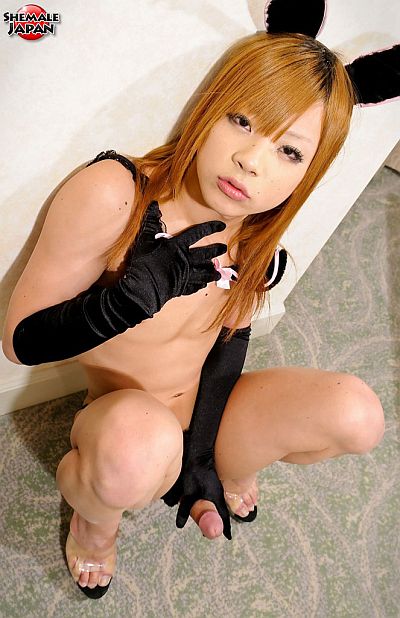 Japanese Ladyboy Sayaka Ayasaki dressed in her cute bunny costume with floppy ears, fur bra and panties for this video at Shemale Japan.
Sayaka looked like such a gorgeous little fuck bunny as she posed and paraded in her sexy costume, the tip of her erect cock sticking out of the top of her fur panties.
It's hard to believe such a small girl as Sayaka could have a real big cock, but sure enough when it sprung out of her panties it was very stiff and stood out proudly at an angle.
Her fuzzy fur panties pulled to one side so her cock stood vertical, Sayaka stroked herself off with one gloved hand.  Her hand moved swiftly as she tugged at her lovely erection, finger and thumb wrapped tightly around the shaft as she built up to her orgasm.
Sayaka jerked hard and like a good tranny girl she shot her cum over her flat belly, covering herself in hot sticky jizz.