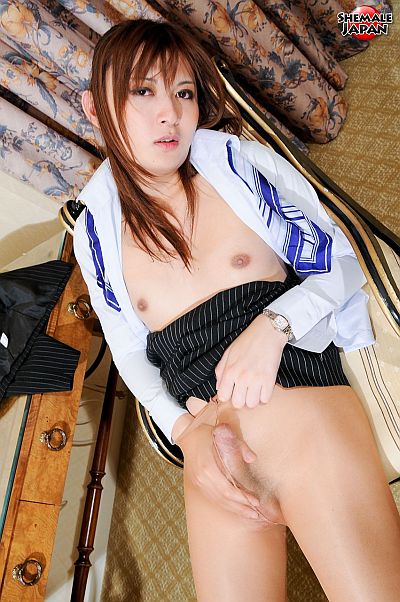 Horny Secretary Mao Asagiri pulls up her skirt to show she has a nice big erection, which is trapped behind the front panel of her sheer nylon pantyhose.
Mao loves the feel of her soft, shiny pantyhose which encases her cock and balls, and she slides her fingers up the shaft of her erection and lets them circle around the head of her pantyhose cock.
Our naughty office girl then puts her hand down her pantyhose, grabs her cock and gently strokes it off as she plays with her pert brown nipples.
Mao tears open the front of her shiny pantyhose and frees her throbbing cock, pulling back her foreskin from the thick purple cockhead of her prick with every stroke of her hand.
Then climbing onto the desk, Mao shows off her shapely ass and pulls her cheeks apart to give views of her lovely puckered ring.