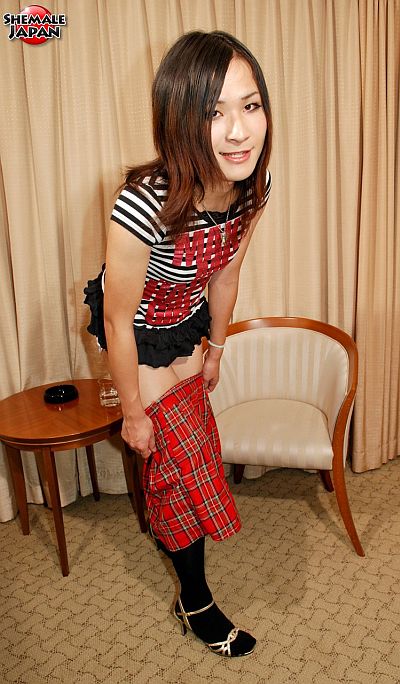 Japanese ladyboy Ayumi has a fresh face and likes to dress up in punk rock style clothing, and she came to the hotel for this photo session, wearing her short, plaid skirt and 'make me happy' t-shirt.
Ayumi has told me that she's kind of shy about taking her clothes off in front of the camera, but she definitely wasn't shy about exposing that big dark bush and thick cock for us to see!
Ayumi looked very sexy in her short skirt, which made me want to feel her ass then lift it up and take a look at what was underneath. Teasing us, she slowly took off her sexy plaid skirt and let it slide down her legs and fall to the floor.
Then off came her white panties and we could see she had a thick bush of pubic hair. She soon worked her cock up to hardness and it stood out thick and proud from the birds nest of her pubic bush.
Ayumi is a kinky girl willing to try anything, so she let us take a razor and with some foam we shaved her pubic hair. She even lifted and folded her legs back so we could shave her hairy ass hole. She loved feeling the razor and soap removing the hair from her anal area and said 'it felt like a tickle'.
Then we played with her cock, tugging and pulling on her thick shaft. Ayumi likes to wriggle as she is being masturbated. As she felt her orgasm coming she made a wriggle movement and hot ladyboy sperm spilled out of her cock like a waterfall down the side of her penis shaft.
Ayumi is the slutty shemale school girl you've always dreamed about! See more of Ayumi in her flirty skirts getting her cock out and being naughty at Shemale Japan.