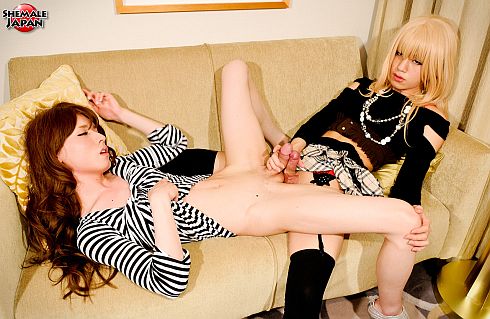 Japanese Shemales Lisa and Kanato got together for some hot newhalf on newhalf hadrdcore sucking and fucking in this video at Shemale Japan.
Kanato and Lisa begin their session with some passionate kissing on the couch. Kanto leads the way and strips Lisa of her shorts, then gets down to suck her off while she handles her own dick between her legs.
Kanato makes lots of sucking noises as she sucks off Lisa, and the later makes sounds of pleasure in her girly voice, for which she is known to make when she's being pleasured.
Lisa returns the favor and gets down to lick and duck on Kanato's cock, rapidly wanking herself off at the same time as she pleasures her friend's stiff penis.
Facing each other, Kanato grabs both of their erections, and pressing the two shafts together, she wanks off both cocks together with one hand.
Kanato then mounts Lisa, and fucks her big cock deep in her friend's tight ass. Lisa strokes herself off as she rides Kanato's cock, and shoots thick while cum over her belly when she climaxes with Kanato's prick stuffed up her ass.