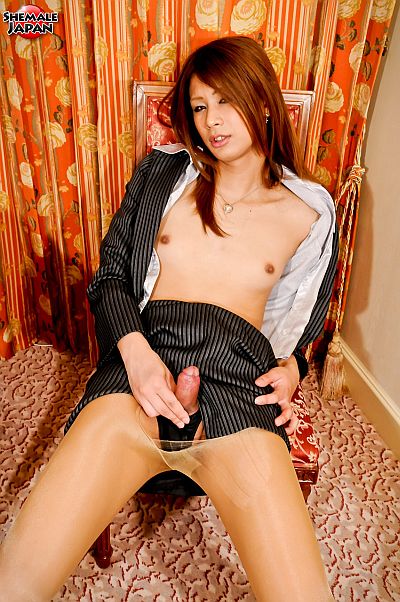 Makoto's glossy pantyhose shimmers like a million stars in this video from Shemale Japan, which begins by observing her caressing her lovely legs in close up.
Looking very smart in her pinstripe suit, secretary Makoto raises her skirt to reveal her erect cock bulging in her panties behind the gusset of her shiny hose.
Makoto breathes heavily with the excitement of the moment, as she undoes her silk blouse and rubs the crotch of her pantyhose.
Tearing at her pantyhose, Makoto grabs her cock from behind the triangle of her black thong and beings to masturbate.
Our beautiful secretary has been aching to release her cock all day, and now she delights in the pleasure she gives herself as she passionately tugs on her stiff rod.