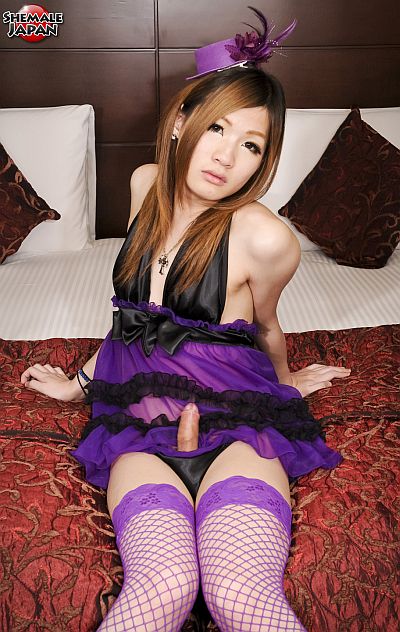 Pretty Newhalf Mako Aiuchi admits she has a strong libido and likes to masturbate all the time when she's not escorting.
Mako emerges out of the bath at the start of her latest video, her excited cock already erect and covered in soapy suds, ready for action.
Mako has pale flawless skin and she washes away the suds with clear water which runs down her slim body, to wash over her stiff cock and balls which hang between her legs.
The contrast between Mako's pretty girl face and big cock as she stands naked in the bath is quite an amazing sight, it fills me with love and lust at the same time.
Next we see Mako dressed in a purple 'baby doll' lingerie dress and matching net stockings with lace tops. She pulls down her pantie thong over the cheeks of her ass and lets us see the puckered ring of her anus, so inviting.
Mako lays back on the bed and strokes her lovely cock, pulling the foreskin over the purple crown of her penis.
Tugging hard on her sweet cock, Mako reaches her orgasm and shoots a rope of thick white cum over her purple dress.