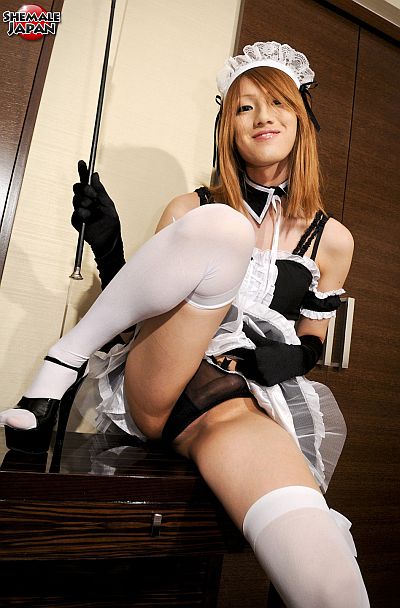 Momoka looks so pretty as she stands in dressed in her French maid uniform and white stockings with bows that reach just above the knee of her long and slender legs.
Lifting her black and white lace dress she reveals she is wearing some very sexy tight black panties through which the bulge of her penis looks nice and snug in its pantie hammock.
Hiro reaches out and feels the ridge of Momoka's cock through the almost see-through material of her panties, and it begins to stiffen to the touch as he strokes her rod between his fingers.
Turning to lift her dress, she shows off her lovely rounded buttocks separated by the tight black thong of her panties and framed by the sexy frills of her underskirt.
Teasing her panties downwards, Momoka's satin gloved hand pulls on one cheek of her ass to expose the puckered ring of her butt for Hiro's close inspection.
Momoka then lifts her dress and Hiro pulls on her erect cock, tugging the foreskin back over her glistening purple cockhead which gives her so much pleasure.