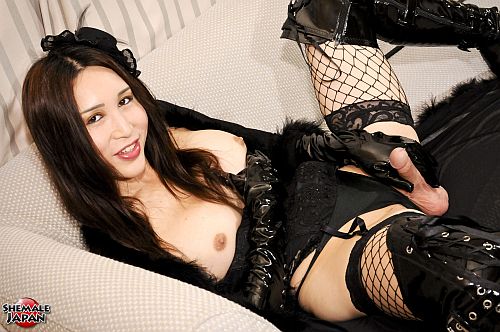 Japanese Shemale Shizuka Momose has a very curvy figure, full breasts and a lovely cock, which makes her very popular among escort clients in Tokyo.
Shizuka finds western men most attractive and before her transition, she used to hang out in town all dressed-up as a girl and meet men for sex in places such as cinemas.
While she was having fun dressed as a girl, she gradually realized her desire to be one, and quit her job to start her transition and became an escort.
In her latest video we find Shizuka looking very sexy dressed in black net stockings, shiny fetish boots and gloves.
Shizuka loved wearing this outfit and it made her feel so horny she could hardly contain her cock in her tight black panties.
  She spent a lot of time wanking herself off with those shiny gloves wrapped around her thick erection, as you'll see in her video.