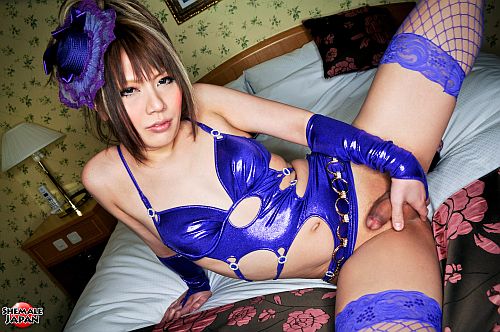 Newhalf Jyuri stands on the stairs wearing a short metallic blue dress and bending over slightly to give a rear view, she flaunts her ass and her sexy fishnet stockings with lacy tops.
Grabbing the cheeks of her ass with both hands she pulls them apart to show off the puckered ring of her anus, her cock and balls rolling between her thighs as she moves her ass about in a very sexy manner.
Pulling the front of the dress downwards she pushes her titties together and teases the erect brown nipples. Then she reaches down to play with her erect shecock already oozing with pre-cum which she rubs over the head of her prick.
Jyuri lays on the bed and applies a vibrator to her cock which is flat against her belly, making her body shake with the intense vibrations which cause her to climax and release her sticky cum.