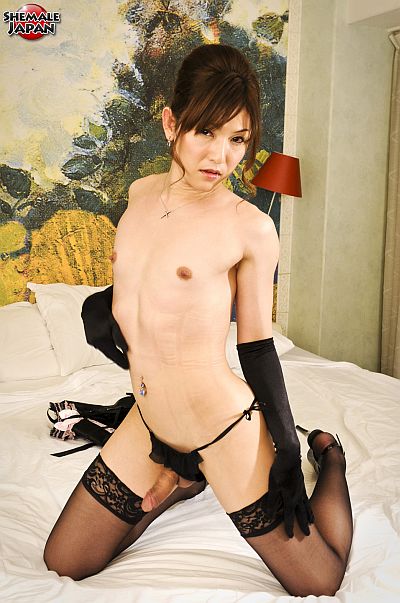 As Mai Ayase stands dressed in black satin corset with pink lace trim, we get a good look at her sexy legs in black stockings and heels. Already we can see that the tip of her erect cock is poking out of the top of her tight panties which fit snugly around her balls.
Mai is very turned on by her lingerie, and as she runs her gloved hands over her hips and the top of her stockinged thighs, her huge cock springs out from her pantie thong. Running her satin gloved hands over her hips and stockinged thighs, she enjoys the sensation of her lingerie as it clings to the shapely contours of her body. Suddenly her huge shecock springs out from the top of her panties and she presses it down so it springs back against her belly.
Mai smiles with sexual pleasure as she stands wanking her nice thick cock in her gloved hands; the big cockhead bulging in her fist as she lovingly strokes her meaty erection. Turning around, she then moves her ass and legs in a very sexy way, causing the straps of her garterbelt to pull tightly on the lace tops of her stockings.
Mai strips off her corset and gloves, then lying on the bed she inserts a vibrator up her ass. Gripping her throbbing cock in her oiled fist, she jerks-off her shemale schlong and shoots a thick jet of cum right up her stockinged leg and onto her thigh!