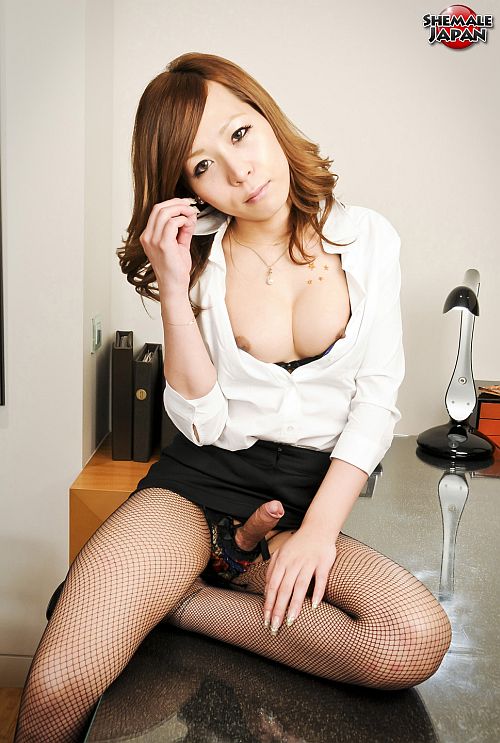 Secretary Sayaka lights up a cigarette in the office and sitting back with her legs crossed she relaxes and blows out smoke between her lips, looking very sexy in her crisp white shirt, short black skirt, fishnet pantyhose and heels.
Sayaka crosses and uncrosses her sexy legs as she smokes, then sits on top of the desk and slips her hand inside her open shirt to pull out her tits from the cups of black bra. She opens her shirt and pulls down the cups of her bra to release her tits, then reaches down to her pantyhose crotch and rips it open to pull out her stiff cock from behind her panties.
Sayaka's cock stands hard and erect from her lap as she grips the shaft and begins to masturbate, brushing her fingers over her breasts and dark brown nipples which are erect with excitement. She utters sounds of pleasure as she moves her hand up and down the shaft of her stiff rod; the shiny, purple cock head thickening in her pounding fist as she increases her rhythm.
Sayaka then goes to the bathroom and oiling up her cock she applies a vibrator to the head and shaft of her erect prick, which throbs with the extra stimulation it receives. Lubricating a fat jelly dildo and inserts it through the hole in the rear of her pantyhose to shove it right up her cock craving ass. Then grabbing her cock in the other hand, she pushes the dildo up her ass and wanks herself off in her slutty ripped pantyhose.