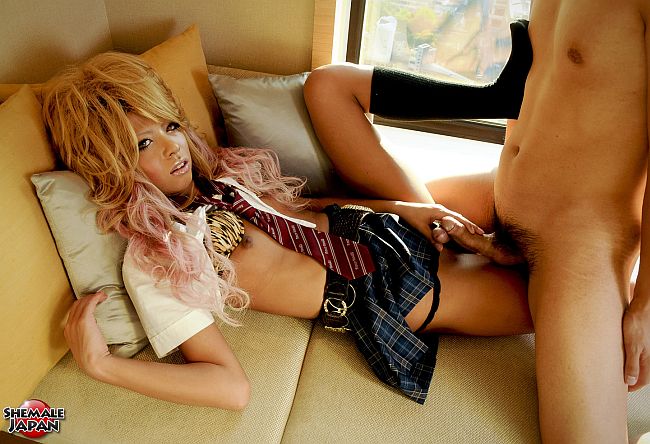 One of Cocoa's admirers wanted to meet her in person, so we arranged for them both to get together early one evening for some hardcore action…
Cocoa rubbed the front of Shinji's trousers until his cock was stiff and hard behind, then he knelt before her and she pressed her shiny patent leather heel against the bulge of his erection behind his zipper.
Cocoa stood and lifted her sexy, short plaid skirt and Shinji began kissing the front of her leopard print pantie thong and along the bare flesh of her thighs. Cocoa's cock began to stiffen behind the soft material of her panties and as he kissed her crotch it became harder and made the front of her panties bulge outward.
As Shinji sucked on her tiny tits his hand reached under her skirt and pulling her panties to one side he took her erect cock in his hand and wanked it off.  He then went down on Cocoa and taking her erection in his mouth he swallowed it whole and felt this gorgeous ladyboy's cock sliding down his throat as he sucked her off.
Cocoa then got down on her knees and wrapped her lips around Shinji's throbbing prick and licked his balls and the underside of his curved erection with the wet tip of her sexy tongue.
Shinji lay down and Cocoa sandwiched her stockinged feet around the shaft of his throbbing prick and gave him an exquisite foot job. She teased his erect penis, rubbing the cockhead with her feet and making him almost ejaculate to the point where clear strands of pre-cum leaked out and stuck to his belly and smeared her socks.
Cocoa and Shinji took it it turns to fuck each other up the ass in a variety of positions, and she finally ejaculated thick wads of cum over her chest and belly as Shinji fucked her up the ass.