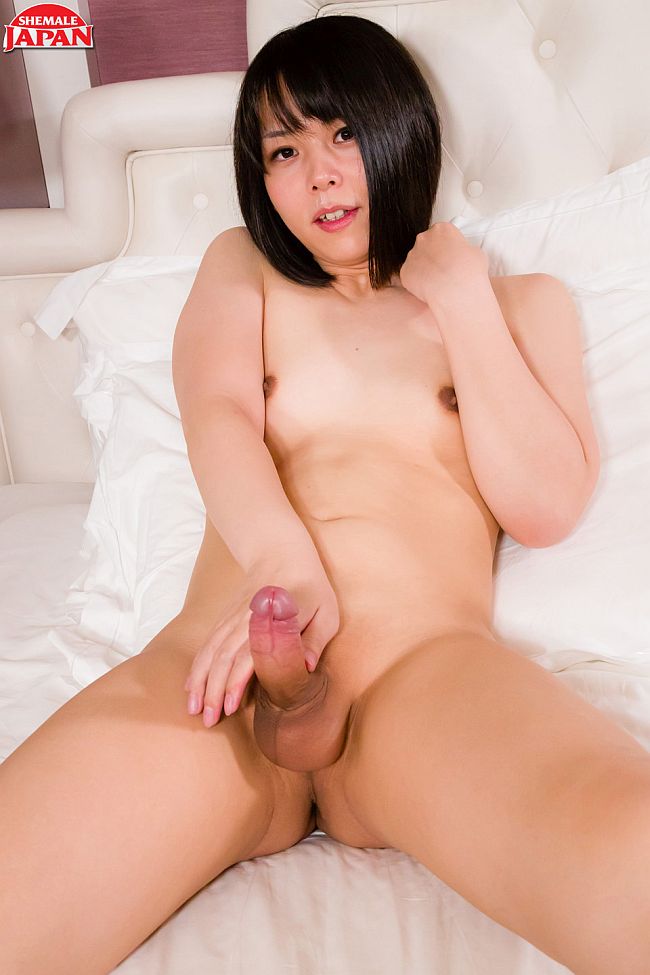 Pretty Japanese Makina is an ultra-feminine newhalf, with petite tits and curvaceous body, her hard cock is a good six-inches when erect! She is everything you'd want to find in a Japanese transgirl and enjoys being submissive and dominated in the bedroom.
In her latest scene, Makina strips off her top to reveal her naked breasts and sits with her legs open, showing the triangle of her white lace panties stretched tight around her cock and balls.
Pulling aside the crotch of her panties, she releases her curvy cock and gives it a stroke, tugging back the foreskin over the purple crown of her cockhead.
She smiles at the enjoyment she gets from tweaking her nipples between her fingers, her cock twitching in it's tumescent state of arousal against her soft, naked thigh.
Makina stands and walks up and down in her heels, her gorgeous cock poking out from under her short dress and swinging in front as she parades around the room.
Turning, she spreads the cheeks of her ass with both hands and bends slightly so the white pantie thong stretches over the puckered ring of her fuckable anus.
Makina strips off her panties and sprawls naked on the bed, laying face down and pulls her buttocks apart to offer up her ladyboy pussy.
Laying on her back she smiles and laughs, holding her hand over her mouth like a shy girl as she wanks her throbbing dick in her hand.
A look of mounting pleasure fills her eyes as she senses the onset of her orgasm and she gasps as a heavy load of hot cum ejaculates over her naked tummy.