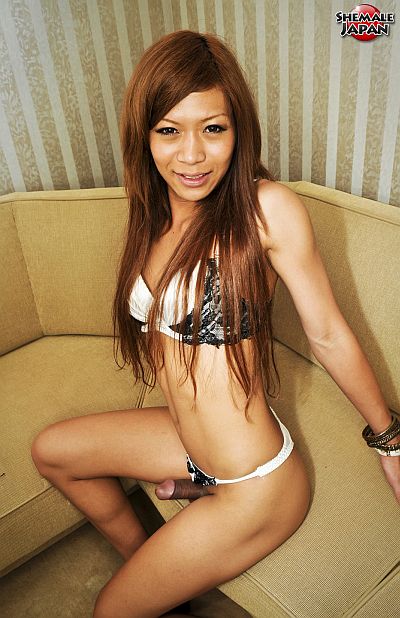 Japanese newhalf Kureha Kanzaki is a very playful ladyboy and you'll see just how she likes to flirt with the men she meets in her first video for Shemale Japan.
Kureha has lovely, soft skin and was keen to show off her shapely legs and ass in her fashionable denim shorts she was wearing. She was in a very cheerful mood as she turned around and knelt to show me her tight, sexy butt, then lay back on the couch and pulled her shorts downwards to reveal the white satin thong she was wearing underneath.
She rubbed the bulge of her hard cock through the front of her panties, then pulled them up tightly so her testicles spread out from either side of her pantie crotch. Her hand dipped into the front of her thong and moved behind the fabric as she played with her shecock, then she tugged the panties to one side and allowed her erection to spring out.
Pulling up her bra revealed that her dark brown nipples were hard and erect with arousal, her tumescent cock growing even bigger as she wanked it slowly in her hand. Her fingers slipped between her thighs and spread the puckered ring of her ass to show where she was wanting to be fucked as she pumped her erect and thick veined cock in her hand.