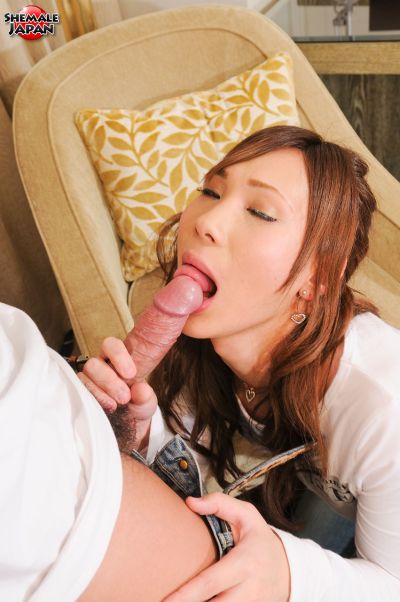 CLICK HERE TO SEE VIDEO OF YUU HOSHIBANA GETTING FUCKED
Pretty Japanese shemale Yuu Hoshibana sucks and fucks in the latest hardcore movie at Shemale Japan.
Yuu Hoshibana is said to have one of the best looking asses, and I have to agree after having invited her over to our hotel room to video this movie.
I soon discovered Yuu's an expert cocksucker when she got down on her knees and began to suck me off. I watched her pretty feminine face turned up towards me, as her hot wet mouth and tongue flicked exquisitely on the underside of my hard throbbing cock .
I wanted to try some cock sucking myself, and pulling her panties to one side I felt no hesitation in taking her sweet little cock on my mouth. What a joy to suck on her girly penis and make her utter sounds of delight as I pleasured her shecock.
As she lay on her side I gave her ass hole a good licking, and had pretty Yuu squirming in ecstasy as I lapped at her butt hole. I fondled the knob of her penis, which she seemed to like, making her whimper sounds of pleasure as I simultaneously tickled her ass hole with my tongue.
Then I worked my cock up her brown eye, a look of pain and pleasure on her pretty face as I plundered her ass with my stiff rod.
I fucked Yuu several times in various positions that night, and finished by stroking my shaft and unloading my spunk right into her hot willing mouth.