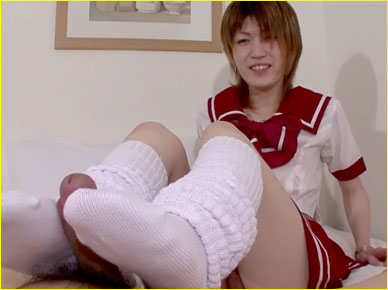 Japanese transsexuals hold a special fascination for many. Their androgynous looks and sexual appeal, make them appear to exist somewhere in between two worlds.
Twenty-three year old Newhalf Mao from Fukuoka is a typical example of the type of transsexual that has this particular charm.
In this movie Mao appears dressed in her school outfit consisting of short pleated skirt, blouse, white leggings and socks.
She gives our cameraman Hiro a foot job, first with her feet in socks, then using her bare feet with pretty painted toes. She smiles and giggles as she rubs Hiro's stiff cock with her lovely bare feet. Then she gets down and sucks him off, making lots of slurping sounds as she sucks on his cock like a lollipop.
She's a dirty girl alright and you can actually see her cute penis twitching with excitement, before Hiro reaches over and gives it a tug.
CLICK HERE TO DOWNLOAD THIS MOVIE OF MAO AT SHEMALE JAPAN