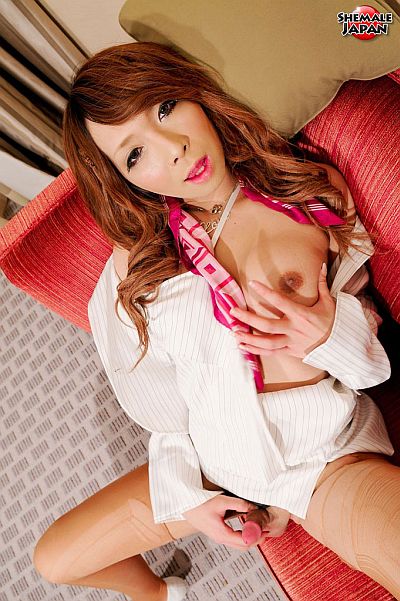 Japanese Shemale Fuuka may look conservatively dressed as an attractive flight attendant in her smart uniform and pantyhose, but this slutty cock slinger has only one thing on her mind – SEX!
Fuuka had been on her feet all day serving passengers and hoping some guy would take her in the in-flight bathroom, pull down her pantyhose, and thrust his throbbing cock right up her tight, tranny fuck hole!
When she finally got to her hotel room at the end of her shift, Fuuka was feeling very horny, so she opened her legs and rubbed her clitty cock through the crotch of her black panties and shiny pantyhose.
Fuuka then ripped open her tights to get at her stiffening penis, and massaged it through her panties till it was erect and it poked out the top of her thong.
She then wrapped her fingers around the shaft of her prick and tugged at the crown of her purple cock-head, pulling it this way and that as she lay on the couch with her tights shredded around her thighs like a slutty tranny whore.