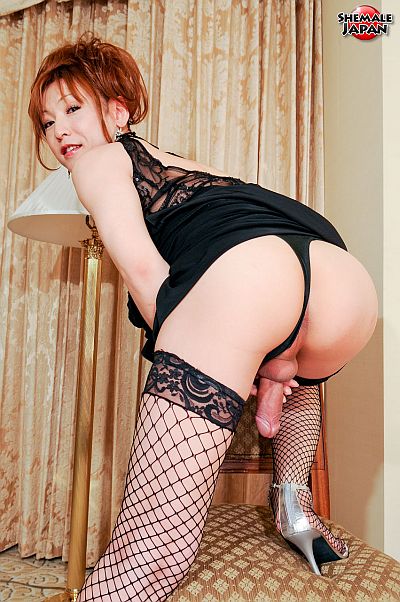 Japanese Newhalf Mai Ayase dresses like a real classy MILF in her elegant dress, net stockings and heels in her latest video at Shemale Japan.
Mai Ayase seductively caresses her shapely legs in net stockings as she sits cross legged on the sofa, allowing the split in her dress to part and give a glimpse of stocking topped thigh.
The look on Mai Ayase's face as her hand reaches between her legs and strokes the bulge in her panties, is one of concentrated sexual arousal.
Holding her cock in place,  Mai rubs and teases her prick behind the fabric of her black panties, until eventually she can't contain her desire and pulling her panties to one side, out springs her huge erection!
Mai Ayase utters sounds of sweet joy as her fingers trace the rim of her bulging, purple, cock head; the thick veins standing out on the shaft of her throbbing erection as she strokes herself off.
Circling the sensitive ring of her butt-hole with one finger, Mai Ayase grips her cock and tugging on it hard, she shoots thick strands of cum over her fist and onto the glass table top.