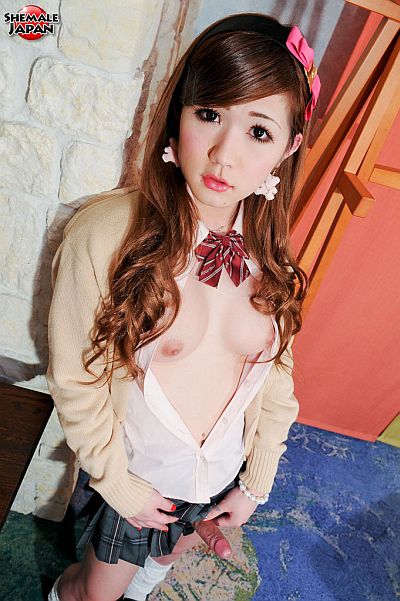 Pretty Japanese Ladyboy Nene Aizawa has a fun time pulling down her panties and playing with her meaty cock in her latest video at Shemale Japan.
Nene's lovely long flowing hair decorated with a pink bow, innocent doe-eyes and a pretty mouth painted with red lipstick, make her look so adorable.
Yet this sweet looking cutie has a big surprise for you hiding in her soft, silky panties as you'll soon see in her video!
When Nene gets home from school she opens the front of her shirt and starts to play with her soft, round tits.
Undoing the button on her skirt, she lets it fall down her smooth legs and reveals the bulge pushing against the fabric of her tight little panties.
She pulls out her lovely erect cock and lets it poke out from the elastic waistband of her pants. She then gives her erection a good tug as she stands with it sticking out from under her school skirt.
Playing with her stiffened penis, she circles her fingers over the purple head of her pulsing erection, making little sounds of pleasure as she handles her joy stick.
Hiro could not resist reaching out and playing with Nene's lovely stiff cock, making her utter sounds of pleasure as he tugged on her throbbing love pole.
For such a pretty, sweet innocent looking ladyboy, Nene sure does have a nice big shecock!