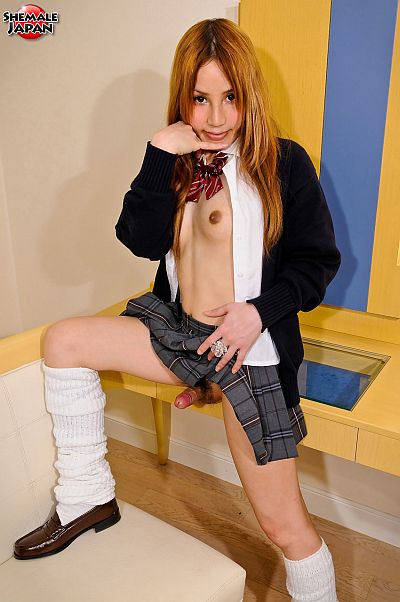 Japanese shemale Yuna Momose saunters into the room wearing her school uniform and a shy smile.
Like most schoolgirls, Yuna loves attention from men, so she teases by giving slight glimpses of her panties under her skirt.
Lifting her skirt, she teases further by showing off the tops of her bare thighs and buttocks, and puts her fingers in the gap where her pantie thong cuts between the cheeks of her pert ass.
Getting on her knees, Yuna gives a rear view as she touches her butthole and fondles her ball sack through the thin strip of her panties.
Pulling her panties to one side, Yuna becomes more aroused as she moves her ass and fingers the brown eye of her butt.
Then sitting in a chair she pulls her stiff erection from her panties and strokes herself off.
Hiro reaches out and takes her throbbing cock in his hand, then vigorously wanks Yuna off and makes her orgasm.