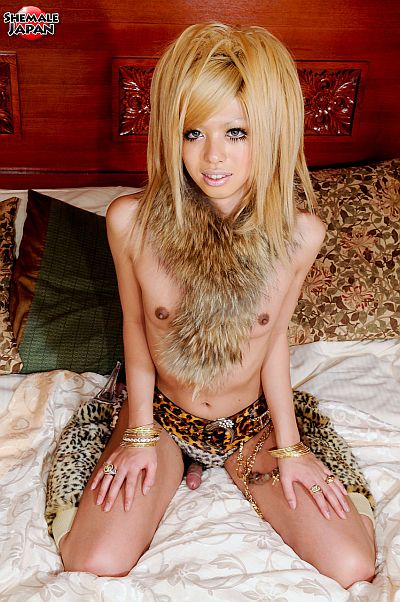 Japanese Shemale Cocoa is a bit of an animal in bed and has a passion for sex!
Twenty-one year old Cocoa lives in Osaka and works as a 'Delivery Health', which is a Japanese euphemism for outcall girl.
Cocoa loves to cum by being ass-fucked and jerked off at the same time, so if you ever take 'delivery' of this gorgeously tanned newhalf you'll know how she likes it!
Cocoa came to my hotel room dressed in some sexy fur and her jungle bunny bra, boots and panties.
Stripping off she knelt on the bed she pulled out her stiff cock from her leopard print panties and started to stroke her hard erection.
Cocoa's cock is one of the loveliest cocks I've seen on a newhalf, and I could have just sucked her off right there and then, but she wanted to show me more…
Kneeling on a leather seat, Cocoa tugged on her cock and the bangles on her wrist jangled as she jerked herself off vigorously.
As she increased her rhythm I noticed the look on her face as she neared her orgasm, and she shot several jets of cum onto the smooth leather surface.