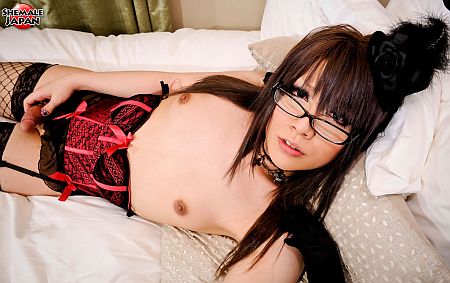 Japanese Shemale Jyuri jerks off her lovely big cock while wearing a corset, fishnet stockings and heels, in her latest video at Shemale Japan.
Jyuri has a one of the most feminine figures, and for this video she wore a tight black and pink satin corset, which accentuated her curves in all the right places.
As soon as she got dressed in this lingerie outfit her cock was hard and ready. She got straight into the wanking from the start, no talking, just looking over the rim of her spectacles as she fisted her stiff erection in the bathroom.
Retiring to the bedroom, Jyuri lay on the bed and opened her stockinged legs, pulling the thong of her panties to one side, exposing the brown eye of her butthole as she tossed and waved her cock around.
One hand wrapped tightly around the girth of her thick shaft, Jyuri pumped hard on her throbbing cock. Her fist wanking furiously, she shot her sperm as she climaxed hard, which left her gasping in the wake of her intense orgasm.