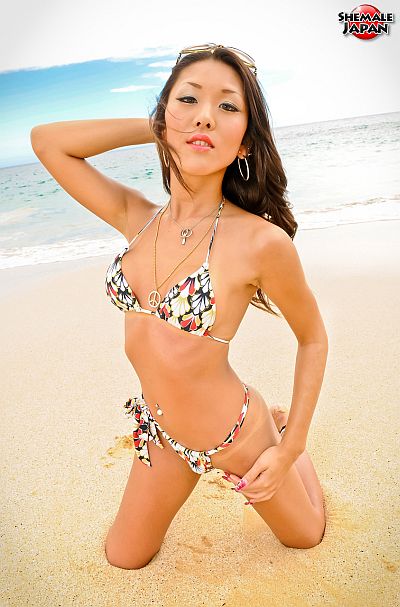 Shemale Japan decided to send Karina Shiratori to Hawaii, along with some of your other favorite newhalfs, to enjoy the tropical weather and video them getting their cocks out.
Karina looked totally glamorous as she posed on the golden sand in a bikini, running her hands over her fabulous body. She looked simply stunning and none of the passers by would have suspected we were videoing a transsexual superstar.
In fact, I couldn't believe how she hid her big cock behind that skimpy bikini thong she was wearing, yet somehow she managed to conceal it.
Later we videoed her playing with her cock by the pool, and she stood with her thong pulled to one side and waved her wang around, as if just to prove she does have a big one!
After showing off more of her fit, tanned body, tits and ass as she played in the pool, she jumped in the bath and jerked herself off.
Her hand pumped her erect cock with rapid strokes as she built up to her orgasm, and thick white sperm spilled over her fist when she finally climaxed.