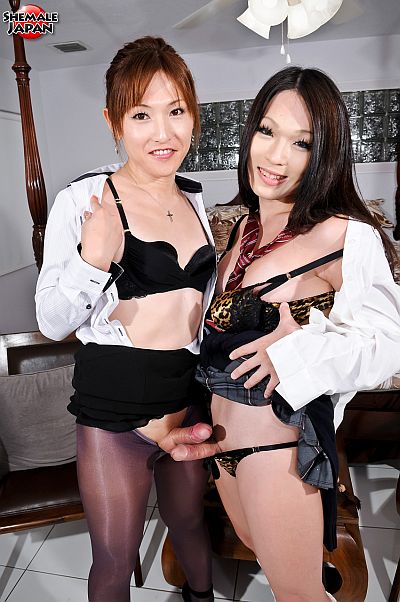 Mai Ayase seduces her student Minami Hosho, teaching her the pleasures of sucking and fucking in this hardcore video at Shemale Japan.
Dressed up as a hot teacher in a white blouse, tight skirt and black pantyhose, Mai seduces her submissive student Minami, who is eager to please.
Mai kisses her shy pupil on the lips and unbuttons her shirt, slipping her hands into the cups of Minami's bra to feel her lovely big breasts.
Then standing, Mai lifts her skirt and makes her student suck her stiff cock while she plays with Minami's erect penis.
Mai then returns the favor, and getting on her knees she takes her pupil's throbbing cock in her mouth and sucks on it.
As Minami lays with her legs pushed back, Mai licks the puckered ring of her pupil's ass, making Minami utter sounds of pleasure.
Then she sits on Minami's face, making her student rim her ass and lick it clean with her hot little tongue.
Sitting on top of her student, Mai gets fucked in the ass, and Minami grabs her teacher's huge erection and jerks her off at the same time.