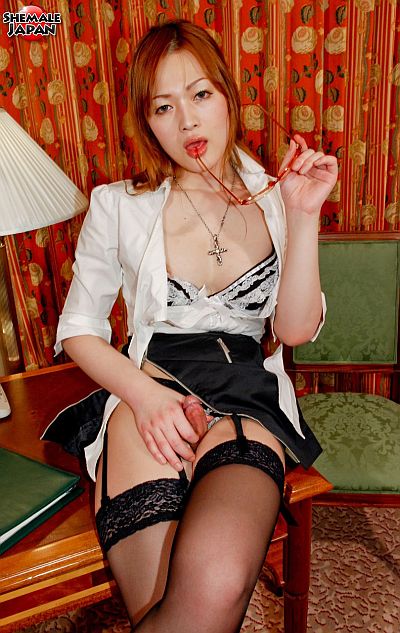 Japanese shemale Maria Tominaga looks like a sexy teacher wearing her glasses and black stockings in this movie at Shemale Japan.
Dressed like a sassy school teacher in satin pencil skirt and black stockings, Maria Tominaga sits and crosses her legs. The zip front of her skirt is open and the nylon covering her sexy legs makes a soft sound as she crosses and rubs them with her hands.
Maria has long hair and soft feminine features, and to look at her you would not realize she was a shemale with a cock down her panties. She acts a little shy here, holding onto the frame of her glasses as she pulls out her cute cock from her panties and fondles her stiff shaft.
Climbing onto the desk, Maria sat on the edge and crossed her legs tightly so that her girl cock stood erect from her lap. Such a lovely cock, I wanted to suck on it, right there and then! I wanted to give her pleasure and feel her hot seed spilling into my mouth. But I continued to film her, moving the camera to get a view of her stocking legs and her standing prick.
Maria felt and touched her erection as I filmed her, fondling the purple helmet with the palm of her hand. She looked hot in her glasses, very intellectual, this sexy tranny girl in her stockings and heels. Maria liked playing this sexy teacher role as it made her feel so turned on. To her own surprise she suddenly came while she was stroking her cock, though it was only a bit of cum she produced.
See this photo set and movie of Maria Tominaga playing with her she cock at Shemale Japan.