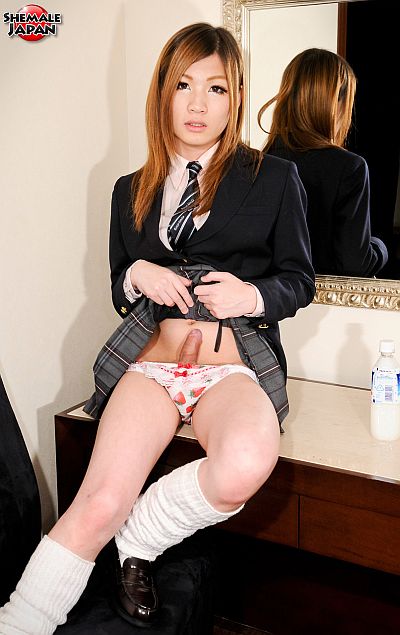 Japanese Shemale Schoolgirl Mako Aiuchi arrives home after a hard day, and plays with her stiff cock in her debut video at Shemale Japan.
Mako's had been trying to conceal her stiff cock under her skirt all day at school, and was unable to concentrate in class.
At least her panties kept her erection in place, but she has been wanting to play with her penis all day.
Mako finds that Hiro is waiting for her when she arrives home and he gives her instructions to pull up her skirt.
Sure enough there is a large bulge in her panties, and when she pulls them down her erection springs out and stands to attention!
Mako stands with her stiff cock standing out at an angle, and Hiro reaches to grab the shaft and give it a helping hand.
Sitting in a chair to masturbate, Mako then opens her blouse to show off her pert brown breasts and tugs on her hard dick at the same time.