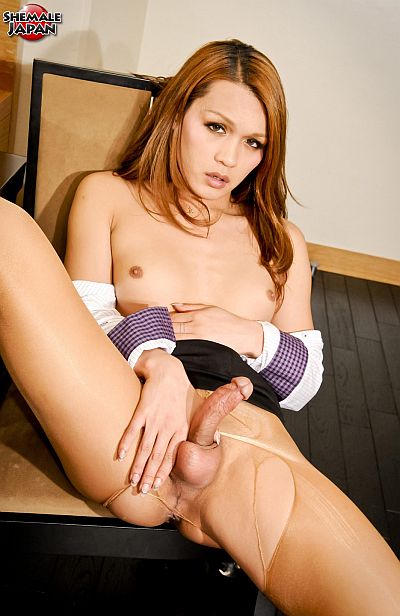 Newhalf Rion Kawasaki shows off her fabulous tits and ass, then rips open her shiny pantyhose and jerks-off her erect cock in this video at Shemale Japan.
Beautiful secretary Rion sits with legs crossed looking very sexy in her spectacles, tight blouse and short skirt that barely covers her thighs.
Brushing her hands over the silky nylon of her glossy pantyhose, she enjoys the erotic sensation of sexy nylon that clings to the contours of her shapely legs.
Standing, she pulls up the back of her skirt to give a rear view of her pert ass cheeks encased in tight shiny pantyhose and gives her butt a sexy little shake.
Rion then turns to lift up the front of her skirt and rubs the shaft of her erect cock which is trapped behind the front panel of her nylon tights.
Sitting back in her chair, Rion uses her fingernails to tear into the crotch of her pantyhose and rips open a hole to free her cock and balls.
Rion bites her lip as she strokes on her stiff cock, quickly unbuttoning her blouse to play with her soft, round breasts and brown nipples.
Kneeling on her chair she exposes her ass through the rear of her torn pantyhose and tickles the ring of her puckered anus with her fingers.