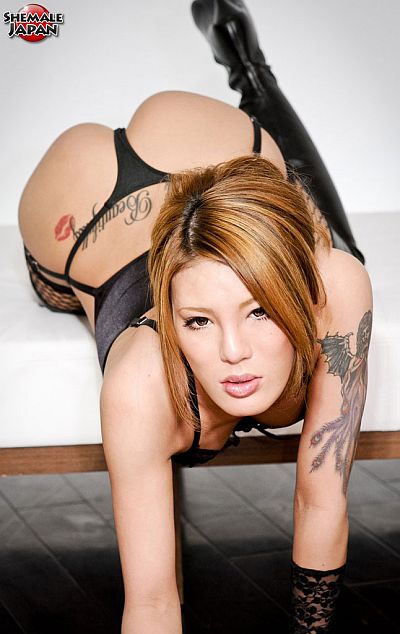 Newhalf Rui Matsushita looks super sexy in fishnet stockings and lingerie, lace gloves and thigh high leather boots in this video at Shemale Japan.
Rui is a former show-pub dancer, and besides being one of the biggest newhalf pornstars, she also escorts under an exclusive agency in Osaka.
She has a beautifully shaped body, with all the curves in the right place and lovely round breasts. No doubt her time spent dancing in the bar has given Rui a certain elegance in posture, and an exquisite body this is highly coveted by all newhalfs.
Rui also has a voracious sexual appetite, and her latest video shows how she needs not one, but two men to fulfill her every sexual desire.
These guys give Rui a good time, and she gives them her mouth and ass in return, ending with their sperm in her mouth and running down her naked tits.