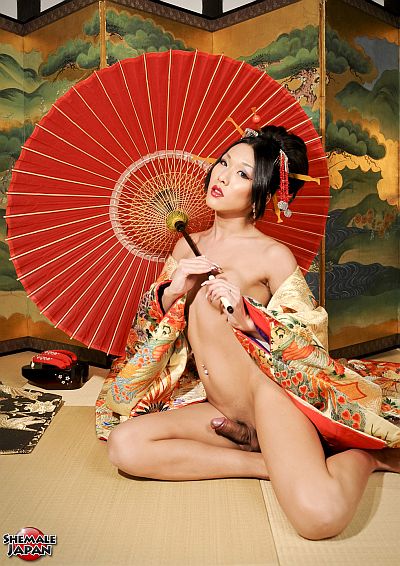 Japanese Newhalf Karina embraces her roots dressed as a pretty Geisha girl in traditional costume, then undresses to milk her erect cock in her latest video at Shemale Japan.
Karina is elegantly dressed as a Geisha girl in a colorful silk kimono, looking so enchanting as she twirls her red parasol and allows you to enjoy the delights of her charming beauty.
Undressing for your pleasure, Karina displays her naked body and flawless honey toned skin, soft round breasts with brown nipples and belly button decorated with a glittering jeweled stone.
Karina then wraps her manicured fingers around the thick shaft of her erect penis and lovingly strokes her she-cock in her hand.
The light shines off the smooth purple crown of Karina's cock as she works up a swift rhythm with her fist wrapped around her hard cock.
Reaching her orgasmic climax she pumps out 6 jets of hot semen and squeezes out the last drops of cum from the eye of her throbbing bell end.