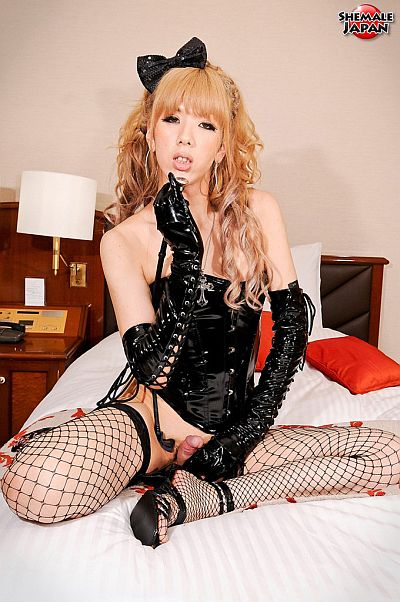 Slender newhalf Noa is an unlikely dominatrix, she's way too sweet for that, but she had a lot of fun dressing up in her fetish corset, sexy fishnet stockings and slutty heels in her latest video at Shemale Japan.
Noa looked fantastic as the long tresses of her blond hair cascaded over her shoulder and contrasted nicely with the shiny fetish corset she was wearing.
Her lips pouted as she posed in her shiny gloves, slutty net stockings and heels, sprawling on the floor like a wanton whore. Using her riding crop she stiffened her tumescent cock, and boy what a cock this ladyboy has to offer!
Breathing heavily as she striped off her gloves, Noa lay back and grabbed hold of her lovely curved penis and whacked it off, slapping it against her tummy as she threw it around like a nice bit of sausage.
Noa was so excited she asked if she could suck my cock, so I put it to her mouth and she slurped on the bulb of my erect penis.
Teasing my cock head with her exquisite flickering tongue, Noa masturbated her own cock and with increasingly rapid strokes she came and shot cum over her corset.