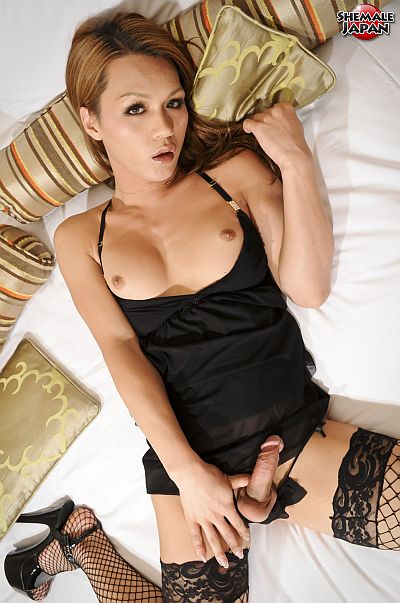 Japanese Ladyboy Rion Kawasaki jerks off her curvy cock and creams in her black fishnet stockings in her latest video at Shemale Japan.
Rion gets right into the action as she stands in the bathroom in her stockings and wanks her lovely curved cock in her expert hand.
Clearly enjoying her masturbation session, she turns to show off her wanking style from a sideways angle, pulling on on her beautiful erect penis with its purple knob.
Swinging her hips she makes her tumescent cock waggle from side to side, her lovely schlong framed by the tops of her lace top sexy stockings.
As her cock pokes out at an angle from the top of her tiny black thong, her tight balls jiggle as she pumps her sweet dick in her crafty fist.
Rion bites her lip as she pumps her tight fist around her pulsing erection, and shoots thick white cum which pools into her naked belly button.