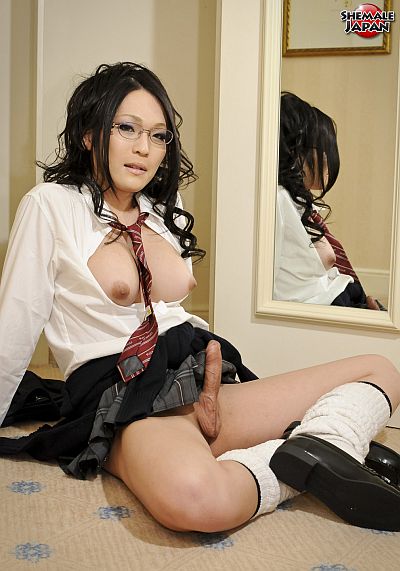 Japanese Ladyboy Minami Hosho gets out her cock and wanks herself off in her sexy skirt in this video at Shemale Japan.
Minami arrives home after a hard day at school and sits down to masturbate as she is so in need of a good wank.
Unbuttoning her crisp white cotton blouse she feels the soft mounds of her smooth transsexual titties and slips her hand under her her plaid school skirt.
Her hand moves under the material of her skirt as she fists her hard erection and then lifts it up to reveal her lovely long cock, stiff with excitement.
Pressing her erect cock downwards, she then lets her stiff member spring back in place and wobble around, it is so big and flexible.
Minami then looks at herself in the mirror and tugs on her cock which stands erect from under the hem of her sexy little skirt.
Pressing, kneading and rolling her cock in the palms of her hands, Minami gives herself a lot of pleasure as she masturbates her flexy penis covered in oil.