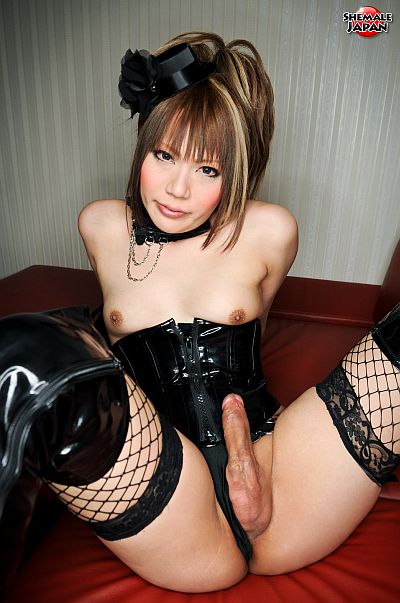 Japanese Shemale Jyuri smiles and looks ever so cute as she sits with her legs crossed, wearing a black garter-belt, lace top stockings and shiny PVC thigh-high platform boots.
The brown areolas of her breasts peek over the topsof her black waist cincher corset, as she places the tip of her riding crop to her softly smiling lips and licks it with her pink tongue.
Hiro applies a large vibrator against the outside of Jyuri's panties and the vibrations make her cock become erect under the tight black satin material. Pulling the edge of panties to one side she releases her rigid cock and once more the vibrator is applied to her throbbing erection.
Jyuri stands up with her stonking erection sticking out at forty-five degrees from her groin, nicely framed by her sexy garters that stretch down to her lacy stockings tops.
She then sticks a dido up her tight but lubricated ass and Hiro gives her hand at thrusting it up her stretched butthole.