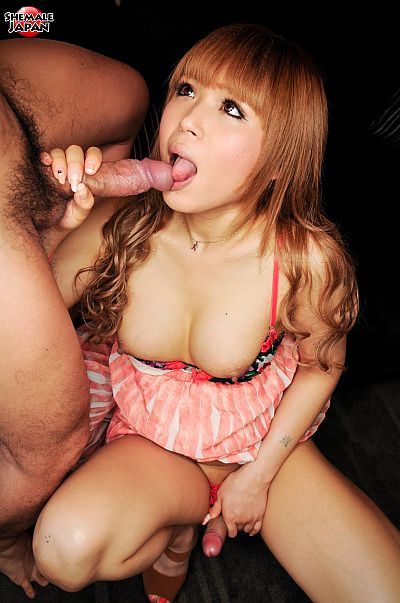 Kaede looks so cute and sexy in her school uniform, her cock is already stiff with excitement as it pokes out proudly from under the hem of her sexy plaid skirt. Hiro reaches down to touch the mounds of her breasts through the tight cotton material of her school blouse as and plays with her cock under her skirt.
Turning around she lifts up the skirt and Hiro spreads the cheeks of her buttocks to inspect the ring of her puckered butt-hole. He then puts his mouth to her anus and gives her chocolate starfish a good rimming with his tongue.
Kaede then gets her soft, wet mouth around Hiro's dick and makes slurpy sounds and she sucks him off. Then Hiro gets on his knees and Kaede licks his ass with her little pink tongue while milking his erect cock with her free hand.
Squatting over Hiro's thighs, Kaede allows him to penetrate her tight butt-hole with his thick cock and she bounces up and down, taking  it deep inside her ladyboy pussy.
Hiro fucks Kaede hard up the ass and wanks off her stiff knob at the same time, making her squeal with pleasure as she's being fucked. Then just before he cums, Hiro pulls out of her ass and shoots jets of sperm over Kaede's firm round titties.